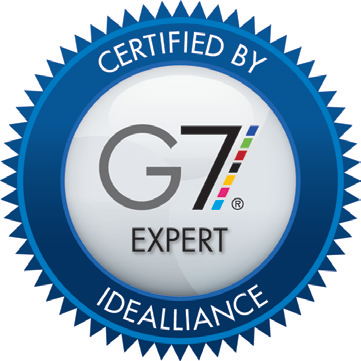 Color Management
Ink is color… therefore, our focus starts at the very beginning of the print production process. Superior plays an active role in your color management effort. Our ink and color scientists will work in collaboration with your pre-press and pressroom operations to help establish and maintain a repeatable color management process in your company. Simply stated, a synchronized color-managed workflow has become critical to the profitable production of print. Print is the centerpiece of the workflow. Superior can fulfill your ink requirements in the sheetfed, web and UV arenas. At Superior, we stand ready to consult with you on all your workflow and color management issues.
About G7TM
G7, the new IDEAlliance proof to print process, is based on principles of digital imaging, spectrophotometry, and computer-to-plate (CtP) technologies. G7 is currently being applied to many types of printing including commercial and publication printing, newsprint and even flexo. This new methodology utilizes existing ISO 12647 Standards as the basis for good printing. G7 requires printing inks defined by ISO 2846-1 so that the dry solids measure as close as possible to the ISO CIE L*a*b* values for seven colors – the four primary colors and three 2-color overprints specified in ISO 12647. Because our goal is to specify a simple calibration process that will help the printers reliably achieve a close 'visual match' from proof to press, G7 breaks from tradition by focusing on colorimetric data for gray balance in the mid-tones rather than on densitometric aims, i.e. dot gain, for each color.
G7 is named for its gray scale calibration technique and the 7 ISO ink colors it requires. G7 is a trademark of IDEAlliance.
The G7TM Experts Program
In order to extend the reach of the new G7 printing methodologies for industry professionals, IDEAlliance established the GRACoL Experts Program. Experts are individuals with established experience in color management and pressroom techniques. Each candidate has participated in hands-on G7 training and has demonstrated their ability to train their clients to implement the G7 press-to-proof process. These experts serve as IDEAlliance agents to qualify MasterPrinters throughout the world.
Superior has certified G7 Experts in house to assist you in the process.